EP 1100 Precision Air Pressure Regulator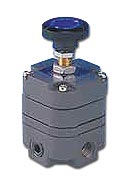 EP 1100 Precision Air Pressure Regulator
Flow Capacity:14 SCFM (25m3/hr.) at 100 psig (700 kPa) supply
20 psig outlet (140 kPa) outlet.
Exhaust Capacity:5 psig (35kPa) above 20 psig (140 kPa) setpoint
EP 1100 - 2 SCFM (3.4 m3/hr.)
EP 1100HR - 10 SCFM (17.0 m3/hr.) (High Relief)
Sensitivity:1/8" (3.2mm) water
Pilot Pressure Chamber Bleed Rate:less than 0.08 SCFM (0.15m3/hr.)
Effect of Supply Pressure Variation:of 25 psig (170kPa) on outlet less than .005 psig (.03 kPa)
Supply Pressure, Maximum:150 psig (1050 kPa)
Weight:1.4 lb. (635g)
Port Sizes:1/8", 1/4", 3/8"
Gage Ports (2):1/4"
Output Pressure Ranges:2-40 psi, 2-60 psi, 2-120 psi
Mounting Options:Pipe or panel
Materials:Body: diecast zinc alloy. Capsule and adjusting screw: stainless steel. Assemblies: stainless steel, brass, plated steel, acetal. Diaphragms: Buna-N elastomer and polyester fabric. Knob: phenolic plastic.