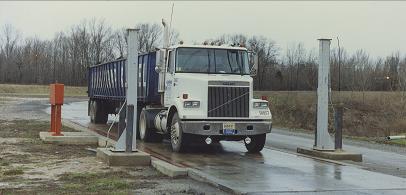 XSD-1000 radiation detection system
The XSD-1000 radiation detection system detects the presence of very low-levels of gamma radioactive materials hidden within a vehicle or container. In industrial applications the system is invaluable in helping catch radioactive material in scrap material before it enters a facility and causes contamination, resulting in costly cleanup expenses. Use of the system in areas of interest for homeland security provides for the early detection of gamma radiation materials, which could be used as a threat to national security.
The Ronan XSD-1000 radiation detection system is modular and expandable in design to meet your specific detection needs. A variety of detector and frame configurations are available to meet any application. The system operates on a windows environment with touch screen navigation for ease of configuration. All data is presented in an easily understood format without the need for the operator to have an understanding of physics.
Each system configuration is optimized for the particular type of transportation system being monitored. The system sensitivity is such that not only does it detect the presence of a target source, it also pinpoints the location of the isotope within the vehicle or container. In comparative testing with other systems on the market, Ronan was found to have the best sensitivity, with an ability to detect target radioactive isotopes at significantly lower levels than the other systems. Source: Health Physics Associates Data Analysis KESI, March 2000.