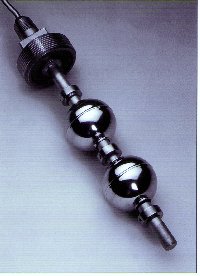 HLS-2 Oil/Water High Level Sensor
Oil/Water High Level Sensor [HLS-2]
Ronan Engineering抯 Model HLS-2 Custom Oil/Water High Level Sensor is designed to monitor fluid levels within oil/water separators. Constructed of stainless steel or brass, PVC, polysulfone, nitrile and beryllium copper, the HLS-2 Sensor will provide years of trouble-free service.
The HLS-2 is installed into the primary tank to provide discrete indications of high oil level and high water levels. Liquid levels sufficient to move the sensor抯 float will transmit a signal to the control panel to initiate control functions or annunciate alarms.
Typical applications for the HLS-2 are oil/water separator high level sensing, and high level/overfill monitoring.
FEATURES
Custom Lengths
Variety of Materials
1/8" NPT to 2" NPT Mounts
3-5/8" Flange Mount
Custom S.G.
One to Six Discrete Level Points
The HLS-2 is available with a fixed or adjustable mounting for easy periodic testing or future adjustment. The sensor is installed through an available bung at the tank top. The HLS-2 may be supplied with a variety of logic configurations and for a variety of liquid densities. The standard HLS-2 is supplied with N.C. logic for fail-safe operation.
Specifications
Wetted Parts: Stainless steel or brass; polypropylene, polysulfone, nitrile, beryllium copper, PVC
Mounting: 1/8" to 2" NPT male or 3-5/8" flange
Switch Rating: SPST or SPDT, 20VA, 120-240Vac pilot duty
Operating: -40篎 to +300篎 maximum Temperature: (determined by float material)
Float S.G.: 0.51 to 0.88
Pressure: 500 psi maximum (determined by float material)
Cable: Polymeric jacket wire pairs, 24" (18AWG 1-2 points, 22AWG 3-6 points)
Specifications are subject to change without notice. Contact Ronan Engineering to verify critical specifications
Related Support Material : Oil/Water High Level Sensor
Key: [L] = Registration Required - [R] = Reps Only

Knowledge Base

| | |
| --- | --- |
| | No Records |
FAQs

| | |
| --- | --- |
| | No Records |
Documents

HLS-2 Oil/Water Sensor [L]
LS_7 Horizontal Sensor [L]