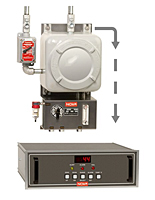 Method of Detection

Temp-controlled T/C cell for H2; capacitive ceramic sensor for dew point


Ranges Available

0-2, 0-5, 0-10, 0-20, 0-50, and 0-100% H2
-148 to 68°F (-100 to 20°C) Dew Point


Resolution

±0.1% H2, ±1° dew point


Accuracy & Repeatability

±1% of full scale


Drift

Zero and Span ±1% of full scale per week


Response Time (T-90)

10-15 seconds to 90% step change


Ambient Temperature Range

32 to 122°F (0 to 49°C). lower temperatures (-5°F, -20°C) with cold weather package


Linearity

1% of full scale


Size & Weight

Dimensions will vary depending on enclosure style and options required


Power

115 VAC, 60 Hz
220 VAC, 50 Hz


Output Options

4-20 mA into 500 ohms non-isolated standard
Isolated 4-20 mA, RS232, RS485, MODBUS, Ethernet outputs


Alarms

High and/or low alarm contacts available, relay contacts SPDT 5A @ 220 VAC rating


Analyzer Type

H2 Analyzer


Hazardous Area Rating Options

Class 1, Div 1, Grp A-D Hazardous Area Rating

For continuous analysis of up to 100% hydrogen (H2) and low range dew point in process gas streams such as heat treating, hydrogen/nitrogen atmospheres and H2

cooled generators.
Best value continuous H2

and dew point analyzer
Bright digital readout
Fast response (T90-10-15 seconds)
Easy to operate
Long life thermal conductivity (T/C) H2

detector with high accuracy and repeatability.
Cannot be burned out due to loss of flow
Long life ceramic dew point sensor
Low range of -148 to 68°F (-100 to 20°C) dew point
Built in sample pump or pressure regulator
Modular layout that is easy to maintain
Hi/Low gas, low flow, and diagnostic alarms available
Isolated analog, RS232, RS485, MODBUS, and Ethernet outputs available
Sample conditioning systems available for removal of acidic gas and dust
Cabinet purge system available for use in hazardous areas
One-step 'cal-now' button with touch screen LCD display
Full automatic calibration with touch screen LCD display
Cold weather package for operation to -5°F (-20°C)
Cabinet coolers can be fitted to most models
High temperature filters and probes
Nitrogen for zero
Analyzed calibration gas for H2

and known ambient dew point for dew point span.